MANAGE TASK-BASED RISKS - SIMPLE SETUP AND NO SOFTWARE TO INSTALL
A cloud-based tool to assist in task based risk management. An uncluttered interface gets you straight to the data you need and the central risk register means that all stakeholders see the current state of critical risk data.
Helps Create RAMS from lists of Hazards and Control Measures
Works for for all types of businesses/premises/worksites
Fully customisable hazard and control measure selections
Integrates with Pisys ATMS, Near-Miss Manager and Permit to Work
Is accessible from anywhere
Works on mobile devices such as iPad/iPhone
Task Risk Management is a useful way to integrate the principles of task analysis into a wider risk management process. We believe that there are significant benefits to taking a task based approach, prioritised around process safety risks. Properly implemented and supported by best in class tools, the way human factors and process risks are understood and managed can be significantly improved.
As in all our Pisys360 products, Task Risk Manager focuses on accessibility and ease of use. We have all seen cumbersome spreadsheets, unmanaged, stored in multiple locations and with hard-to-interpret rules and logic. Our system is not complex but it makes it easy for all stakeholders to see and contribute to the process of assessing and mitigating risk.
As with all our HSE products we're very aware that our customers have many demands on their time and attention. Our systems are quick to learn, easy to use and extremely robust and configurable. Data integrity is maintained by our ISO27001:2013 processes and availability is ensured by Amazon Web Services
At the top level we define an activity - here we see three separate actvities which will then be split into Job parts
Here we define the job steps associated with the task - This provides an accessible Risk Assessment method statement (RAMS)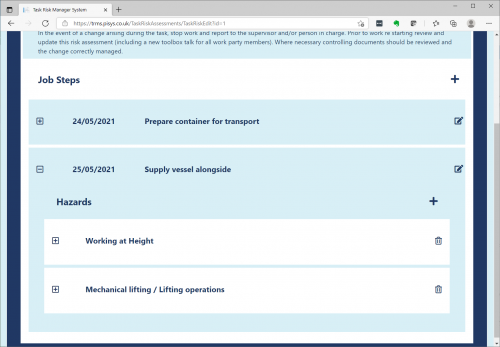 Next we define hazards associated with the job step. Here we've identified working at height, with possible harm to personnel. We also define the severity and likelihood associated with the risk pre-mitigation.
Controls are applied to mitigate the risk - these are defined in the admin section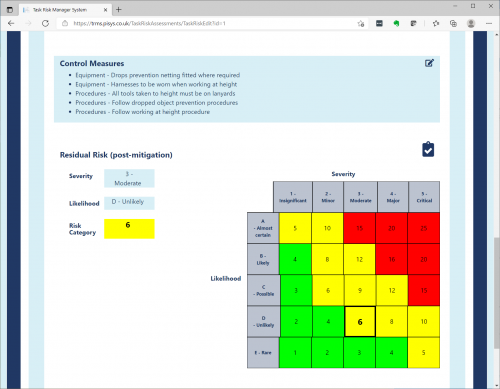 Finally we set the post-mitigation likelihood and severity after controls are applied.
It's really that simple - the system also has links to our Electronic Permit to work and Action Tracking systems creating a totally configurable and scalable HSE solution
Please get in touch for a more detailed demonstration and to hear about how companies worldwide use the Pisys HSE suite to ensure safety and compliance.