SIMOP management on complex worksites
There are several factors which affect the complexity of SIMOP management in a permit to work system.  Graphical permit boards showing permits overlaid on a map of the worksite ( 'plot plans') can be helpful in providing context. However complex worksites with a large number of areas can make identifying simops more difficult, especially if it is difficult to visualise the areas (e.g. rooms in a large office building may all be of similar sizes and have no particular unique characteristics other than location).
A large site with a high density of activities may cause issues when presented on a plot plan, since it is difficult to denote sufficient detail to allow each permit to be clearly identified without cluttering the display.
If the worksite is on multiple levels it becomes more difficult to identify simops - since activities occurring on different levels may be occupying the same footprint, yet be independent for the purposes of permit issue.
Permit boards need to reflect the current state of permits so that accurate planning around simops can take place. This can be difficult where permit boards are manually updated since information can often be out of date. It is also important for permit board to be visible to both those managing permits and performing tasks, particularly where simops could cause an issue. Having a clear picture of all activities in a worksite helps everyone - as long as this information is presented in a way that is easy to interpret and which does not cause confusion.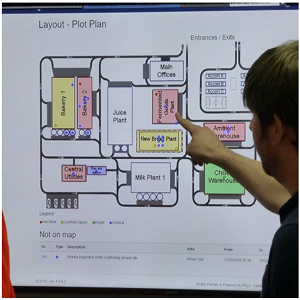 In this example, a plot plan of a worksite shows permits colour coded to represent their status. The board is part of the permit to work system and allows 'drill down' to the underlying permit data. In this way all the data displayed is up to date